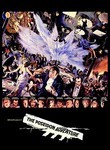 The Poseidon Adventure
Cast:

Director:
As the luxury liner Poseidon charts its course on New Year's Eve, disaster strikes when an undersea earthquake causes a titanic tidal wave and capsizes the vessel, leaving just 10 survivors. Led by a no-nonsense reverend (
Gene Hackman
), the group must maneuver through airshafts, electrical cables and a burning engine room to the boat's hull, which is their lone chance for escape. The film scored an Oscar for Best Song ("The Morning After").