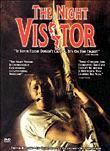 The Night Visitor
Cast:

Director:
After being accused of murder, Salem (
Max von Sydow
) is committed to an insane asylum at the request of his conniving sister (
Liv Ullmann
) and her malevolent husband (
Per Oscarsson
). Even from behind bars, he proclaims his innocence -- and vows revenge on the people who put him there. Laszlo Benedek (The Wild One) directs this brooding psychological thriller with bone-chilling music by Henry Mancini.