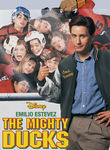 The Mighty Ducks
Cast:

Director:
As punishment for getting a DUI, hotshot lawyer Gordon Bombay (
Emilio Estevez
) is sentenced to community service coaching the pathetic Mighty Ducks hockey team. Initially reluctant, Gordon eventually transforms the ragtag band of outsiders and misfits (including a young
Joshua Jackson
) into the No. 1 team in the peewee league, overcoming his own childhood trauma in the process. The real-life NHL team was actually named after this movie.