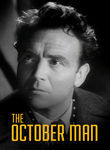 The October Man
Cast:

Director:
After surviving an accident that left a girl dead, Jim Ackland (
John Mills
) struggles to recover from a brain injury. Upon his release from the hospital, he stumbles into a murder plot involving Molly Newman (
Kay Walsh
), a mysterious woman pursued by the criminal underground. Ackland is soon framed for murder and must clear his name while maintaining his tenuous grip on reality. Unfortunately, he can't be certain that he's innocent.