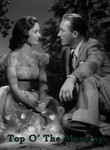 Top o' the Morning
Cast:

Director:
When Ireland's famed Blarney Stone goes missing, American insurance investigator Joe Mulqueen (
Bing Crosby
) flies across the pond to get a better look at the crime. But in the process, he falls in love with a local lass (
Ann Blyth
) ... and fulfills an ancient prophecy.
Hume Cronyn
co-stars in this lilting movie-musical that finds the leads making eyes at each other over the title track, "Top o' the Morning."