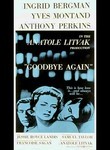 Goodbye Again
Cast:

Director:
What's good for the goose is good for the gander in this drama about Paula (
Ingrid Bergman
), a successful decorator who gets so tired of her lover Roger's (
Yves Montand
) endless parade of young mistresses that she begins her own affair with a much younger lawyer (
Anthony Perkins
). But her happiness is short-lived as her reputation begins to suffer and Roger insinuates himself back into her life.
Anatole Litvak
directs this award-winning film.