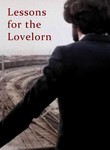 Lessons for the Lovelorn
Cast:

Director:
When he chances upon a woman of rare beauty in a picturesque little Italian café, a geeky young man falls head over heels and resolves to win her heart, even though he knows she's way out of his league. But the love-struck lad is going to need every ounce of his resolve as he tries one scheme after another to soften the lady's hard heart.
Andy Luotto
and
Mirella D'Angelo
star in this charming romantic comedy.