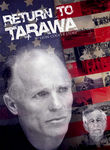 Return to Tarawa: The Leon Cooper Story
Cast:

Director:
Some 65 years after leaving the Pacific, former Navy Ens.
Leon Cooper
returns to the site of the bloody battle at Tarawa to investigate a disturbing rumor: that trash and debris now decorate the shores where thousands of men fell dead or wounded. Out of respect for the sacrifices his countrymen made there in the fall of 1943, Cooper is determined to clean up the area and restore honor to once hallowed ground. Oscar-nominated actor
Ed Harris
narrates.