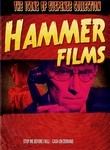 Cash on Demand / Stop Me Before I Kill!
A financier complies with a heist to save his family, and a man battles his inner demons in this pair of classic 1960s thrillers from the legendary British production company, Hammer Film Productions. In Cash on Demand, Fordyce (
Peter Cushing
) must cooperate with a robber (
Andre Morell
) who's holding his wife and son hostage. Stop Me Before I Kill! finds Alan (
Ronald Lewis
) tormented by a compulsion to strangle his new bride (Diane Cilentro).