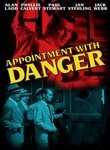 Appointment with Danger
Cast:

Alan Ladd, Phyllis Calvert, Paul Steward, Jan Sterling, Jack Webb, Stacy Harris, Harry Morgan, David Wolfe, Dan Riss, Geraldine Wall, George J. Lewis

Director:
This hardboiled crime story stars stoic noir staple
Alan Ladd
as Al Goddard, a special investigator sent to Gary, Ind., to solve a postal detective's murder and track down the sole witness to the act: shy young nun Sister Augustine (
Phyllis Calvert
). With her reluctant aid, Goddard learns the identity of the culprits and soon uncovers their gang's plot to pull off a million-dollar mail heist.
Jan Sterling
is a standout as gun moll Dodie La Verne.