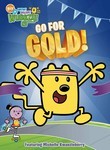 Wow! Wow! Wubbzy!: Go for Gold
Cast:

Director:
Wubblympics record-holder
Michelle Kwan
zleberry (voiced by guest star
Michelle Kwan
) visits Wuzzleburg to help Wubbzy, Widget, Walden and Daisy learn about teamwork, sportsmanship and the joy of physical activity. The gang gets plenty of exercise and has loads of fun in this compilation of athletic-themed episodes of the popular animated series about the playful yellow fellow with the very active tail.