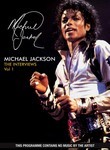 Michael Jackson: The Interviews: Vol. 1
Cast:

Director:
Get an up-close and personal look at the King of Pop in this essential collection of in-depth interviews that gleans insight into
Michael Jackson
's rise from child sensation to one on the most mesmerizing and influential entertainers of all time. Absent of Jackson's iconic songs, this thrilling compilation instead focuses on the man behind the superstar image, mega-hit music and spellbinding moves.