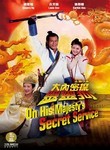 On His Majesty's Secret Service
Cast:

Louis Koo, Barbie Hsu, Sandra Ng Kwan Yue, Siu-Wong Fan, Chi Chung Lam, Kar-Ying Law, Kin-Yan Lee, Man-kwan Lee, Ka-Yan Leung, Yang Liu, Yiwei Liu

Director:
Shenanigans reign supreme in China's imperial court when Royal Dog (Louis Koo), a bodyguard who would rather dream up outlandish inventions than practice his kung fu, uncovers a series of assassination plots revolving around the wicked court eunuch. As Royal Dog confronts a gender-bending killer and other murderers, he also becomes a reluctant suitor of the royal princess. Jing Wong directs this kung fu comedy that also stars Barbie Hsu.