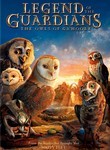 Legend of the Guardians: The Owls of Ga'Hoole
Kathryn Lasky's popular children's books are the inspiration for this captivating animated feature about Soren, a barn owl kidnapped from his peaceful forest home. His abductors bring him to an orphanage, where he must train to become a soldier. Despite the toil and hardships, Soren makes friends, and together the young birds attempt to escape.
Zack Snyder
(The Watchmen, 300) directs this epic adventure.