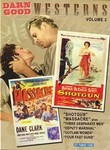 Massacre / Three Desperate Men / Outlaw Women
Cast:

Dane Clark, James Craig, Martha Roth, Preston Foster, Jim Davis, Virginia Grey, Marie Windsor, Richard Rober, Allan Nixon, Carla Balenda, Lyle Talbot

Director:
These three fast-paced, tightly plotted Westerns are unjustly forgotten B-movie gems, filled with tough men, tougher women and a lot of business handled with six-guns in hand and horses always at the ready. Massacre is about a pair of lawmen facing off with small-arms dealers and hostile Indians. Three Desperate Men concerns three brothers who bring the law down on themselves and Outlaw Women just plain lives up to its name.