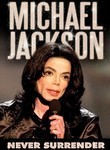 Michael Jackson: Never Surrender
Cast:

Director:
The King of Pop may be dead, but his legend continues to grow. This documentary charts
Michael Jackson
's extraordinary personal and professional journeys -- from his earliest days as one of five performing siblings to his final status as music icon. Through never-before-seen footage, interviews with those close to the eccentric performer and analysis by music journalists, this program paints a vivid portrait of the man who brought us "Thriller."