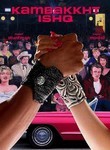 Kambakkht Ishq
Cast:

Director:
When playboy and hotshot Hollywood stuntman Viraj Shergill (
Akshay Kumar
) tries to stop his brother's impending wedding, his efforts clash with those of brash Simrita Rai (
Kareena Kapoor
), a friend of the bride who has her own plans to halt the nuptials. But as Viraj and Simrita reluctantly join forces, their friction may spark true love.
Sabir Khan
directs this Bollywood romantic comedy with cameos by
Sylvester Stallone
and
Denise Richards
.