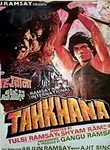 Tahkhana: The Dungeon
Cast:

Shyam Ramsay, Rana Jung Bahadur, Hemant Birje, Deepak, Sunil Dhawan, Arti Gupta, Puneet Issar, Trilok Kapoor, Huma Khan, Tulsi Ramsay, Narendranath, Priti Sapru

Director:
After his plan to sacrifice his young nieces goes awry, black-magic priest Durjan is condemned to a dungeon. Now grown, the long-separated sisters hold a secret to a hidden treasure, but various forces -- including Durjan -- conspire against them. The women face opposition from a team of rival adventurers and a bloodthirsty demon god in this exciting adventure from Bollywood impresarios the Ramsay Brothers.