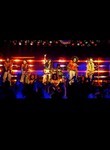 Go Go 70s
Cast:

Seung-woo Cho, Min-a Shin, Hyuk Poong Kwon, Min-gyu Kim, Jae-rok Kim, Ji-eun Oh, Sung-min Lee, Min-cheol Choi, Kwang-ho Hong, Seung-wu Cha, Yeong-sik Lim

Director:
With their collective eye on winning a music contest in Seoul, singer Sang-gyu (
Seung-woo Cho
) and guitarist Man-Shik form a soul-inspired band called the Devils and take their spirited act on the road. Along the way, they adopt a feisty go-go dancer named Mimi (
Min-a Shin
), who adds visual spice to their live shows and helps the group reach a level they never imagined. This film is based on a true story.