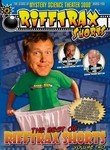 RiffTrax: The Best of RiffTrax Shorts: Vol. 2
Cast:

Director:
Former "Mystery Science Theater 3000" stars
Mike Nelson
,
Bill Corbett
and
Kevin Murphy
continue their assault on educational shorts from the 1940s through the '70s that offer helpful insights on bicycle safety, personal hygiene and popularity. Get a blast from the past with "Lunchroom Manners," "Each Child Is Different," "Harm Hides at Home," "Coffee House Rendezvous," "Good Heath Practices" and the inexplicably titled "Cathy-Petaluma Chicken."