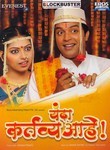 Yanda Kartavya Aahe
Cast:

Director:
Thanks to an arranged marriage that was designed to make an ailing grandmother happy, newlyweds Rahul (
Ankush Choudhary
) and Swati (
Smita Shewale
) are virtually strangers. Can a four-day honeymoon make a difference when it comes to the couple's feelings about each other?
Mohan Joshi
,
Atmaram Bhende
and
Asha Bhende
provide support in this engaging meditation on life and love from director
Kedar Shinde
.