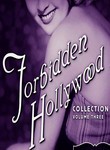 Wild Bill: Hollywood Maverick / The Men Who Made the Movies: William A. Wellman
Cast:

Director:
These two feature-length documentaries explore the life and legacy of legendary director
William A. Wellman
, who made more than 80 movies in his lifetime and won the first Best Picture Oscar for his 1927 silent war drama, Wings. Dubbed "Wild Bill" during his World War I pilot days, the outgoing Wellman retained the nickname as he established a large presence in Hollywood. Meanwhile, he ran through five marriages during his turbulent career.