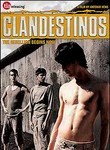 Clandestinos
Cast:

Director:
During one of his brief stints outside of prison, young criminal Xabi (
Israel Rodríguez
) meets an older man, Iñaki (
Luis Hostalot
), who indoctrinates Xabi into his Basque separatist revolution. Later, Xabi breaks out of jail and tries to stage a violent act to impress Iñaki. Meanwhile, Joel (Hugo Catalán) and Driss (
Mehroz Arif
), two fellow inmates who escaped with Xabi, meet women who become suspicious of Xabi's plans in this tense drama.