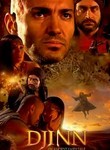 Djinn: An Ancient Fairy Tale
Cast:

Director:
Drawn from ancient Middle Eastern fables, this fantasy tells of Imad, a hero whose true love, Amina (
Iglesias Estefania
), is abducted by a powerful djinn (
Navid Negahban
), or genie. His love for her sends him on a perilous journey to rescue her. A fortune teller and an angel guide Imad as he faces the challenges of the "three vices of man" -- fear, greed and lust -- in his quest. First-time writer-director
Sean Solimon
stars as Imad.