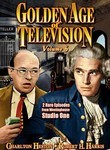 A Bolt of Lightning / The Rabbitt
This twin bill of hourlong episodes from the Westinghouse-sponsored television classic "Studio One" serves up two profiles in courage. In "A Bolt of Lightning" (1951),
Charlton Heston
stars as early human rights advocate James Otis, who fights the practice of warrantless search and seizure in colonial America. "The Rabbit" (1951) follows a shy bookkeeper who seizes his chance for revenge against a chorus of tormentors.