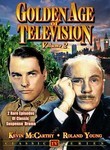 Mr. Mummery's Secret / Away from It All
Cast:

Director:
Relive the Golden Age of anthology series with this pair of episodes from Westinghouse's "Studio One." In "Mr. Mummery's Suspicion" (1951),
Roland Young
plays an easily flustered man who fears that his wife (
Faith Brook
) may have hired a killer chef.
Kevin McCarthy
stars in 1950's "Away from It All," in which a navy pilot encounters a society of expatriates living the good life on a remote Pacific island.
Richard Purdy
co-stars.