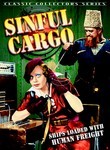 Conrad Nagel
stars as Alan O'Connor, a federal agent who goes undercover to get the dirt on a phony Hollywood movie studio that illegally smuggles Chinese immigrants into the country.
Eleanor Hunt
stars as local reporter Bobbie Reynolds, who has suspicions of her own, and together they try to bring the curtain down on the dangerous ring.
Crane Wilbur
directs this early thriller that also stars
Vince Barnett
.