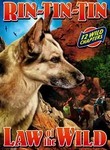 In this 12-chapter Mascot serial, rancher John Sheldon (
Bob Custer
) is falsely accused of murder, and his police dog, Rinty, and wild stallion,
Rex
, get caught up in the case, as Alice Ingram (
Lucile Browne
) decides to race
Rex
in order to raise money for John's defense. Meanwhile, Frank Nolan (
Richard Cramer
), who is responsible for framing John, plots to steal the stallion out from under his nose. It's up to Rinty to save the day.