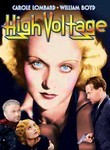 High Voltage
Cast:

Director:
A snowstorm forces a group of bus travelers to hole up in an abandoned church occupied by a vagabond named Bill (
William Boyd
), who takes charge of their survival and captures the heart of prisoner-in-transit Billie Davis (
Carole Lombard
, in one of her first talkies). The people find themselves at the mercy of Bill, who controls the distribution of food and isn't being completely truthful with them about his past.
Owen Moore
co-stars.