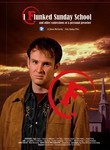 I Flunked Sunday School
Cast:

Director:
When Lloyd Boyd (
Kevin Dean
) gets a message from God to become a "personal preacher," he reluctantly begins a one-on-one ministry. Despite not really knowing what he's doing and having flunked Sunday school, Lloyd proves a beacon of hope. He saves the church he attended as a child from a hostile takeover, brings a husband (
Clarence Whitmore
) back into the flock and helps a millionaire (
Stuart Purdy
) confront his personal demons.