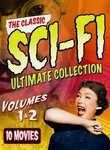 The Incredible Shrinking Man / The Monolith Monsters
Cast:

Grant Williams, Randy Stuart, April Kent, Paul Langton, Raymond Bailey, William Schallert, Frank J. Scannell, Helene Marshall, Diana Darrin, Billy Curtis, Lola Albright, Les Tremayne, Trevor Bardette, Phil Harvey, William Flaherty, Harry Jackson, Richard H. Cutting, Linda Scheley, Dean Cromer, Steve Darrell

Director:
This pair of campy classics from the 1950s features plenty of high-powered action and sci-fi special effects. After being exposed to radiation, Scott Carey (Grant Williams) becomes The Incredible Shrinking Man; then, a meteor crashes into the desert and its fragments grow huge when they're exposed to water. Soon, The Monolith Monsters are sucking the water out of humans, turning them into petrified versions of themselves.