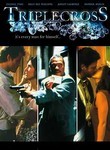 Triplecross
Cast:

Director:
When T.C. Cooper (
Michael Paré
) is unexpectedly released from prison by FBI agent Oscar Pierce (
Billy Dee Williams
), he's charged with an improbable mission: use his criminal expertise to take down notorious thief Jimmy Ray Danker (
Patrick Bergin
), with a fortune's worth of diamonds at stake. What neither Oscar nor T.C. bargain for is that in order to get to Danker, they'll have to get past his sex-siren girlfriend (
Ashley Laurence
) first.