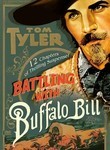 Battling with Buffalo Bill
Cast:

Tom Tyler, Lucile Browne, William Desmond, Rex Bell, Francis Ford, George Regas, Yakima Canutt, Bud Osborne, Joe Bonomo, Chief Thunderbird, Jim Thorpe

Director:
In this 1930s Western serial, Buffalo Bill Cody (Tom Tyler) and the U.S. Cavalry battle ruthless gambler Jim Rodney (Francis Ford) and his gang when Rodney terrorizes a small town in order to claim its recently discovered gold. But to bring Rodney to justice, Cody must first fight off an incited Indian tribe. Rex Bell and Jim Thorpe also star in this 12-chapter adventure based on Cody's book The Great West That Was.