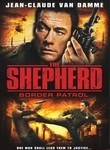 The Shepherd
Cast:

Director:
Ex-cop and current border patrol agent Jack Robideaux (
Jean-Claude Van Damme
) becomes a one-man crime-fighting force when he tries to take down a rogue American Special Forces unit in this action thriller. Determined to thwart a plan to smuggle millions of dollars' worth of Afghan heroin into the United States, Robideaux takes on crooked bureaucrats and cunning cartel members on both sides of the border.
Scott Adkins
and
Stephen Lord
co-star.