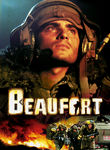 Beaufort
Cast:

Alon Aboutboul, Adi Adouan, Yaakov Ahimeir, Guy Apriat, Avi Ayoun, Itamar Barzani, Daniel Bednar, Alon Ben David, Oshri Cohen, Eli Altonio, Daniel Brooks, Gal Friedman, Nevo Kimchi, Ohad Knoller, Arthur Perzev, Ygal Resnik, Itay Schor, Itay Tiran, Itay Turgeman, Danny Zahavi, Hanan Yishai, Ami Weinberg

Director:
In the final days of the Israeli occupation of Lebanon, a band of soldiers prepares for the evacuation of a mountain stronghold called Beaufort. Their leader is 22-year-old Liberti (
Oshri Cohen
), whose strict adherence to the rules puts the men in harm's way. As the evacuation draws near, Hezbollah steps up its attack, testing Liberti's mettle and the men's allegiance to him.
Eli Altonio
co-stars in director
Joseph Cedar
's Oscar-nominated film.