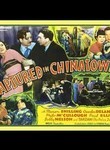 Hollywood Chinese: The Chinese in American Feature Films
Cast:

Turhan Bey, B.D. Wong, Joan Chen, Wayne Wang, Tsai Chin, James Shigeta, Luise Rainer, James Hong, Ang Lee, Christopher Lee, Justin Lin, Nancy Kwan

Director:
Sundance award-winning director Arthur Dong traces the history of the Chinese-American influence in Hollywood cinema in this insightful documentary. Highlights include footage from more than 90 movies, ranging from 1890s paper prints to modern films. Also featured is the newly discovered 1916 movie The Curse of the Quon Gwon, directed by Marion Wong and believed to be the first Chinese-American film made.