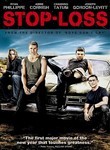 After a tour in Iraq, decorated hero Sgt. Brandon King (
Ryan Phillippe
) returns home to his small Texas town and tries to readjust to civilian life. But when he's called up again as part of the military's controversial stop-loss program, he decides to go AWOL.
Joseph Gordon-Levitt
and
Channing Tatum
play Brandon's war buddies, and
Timothy Olyphant
is his stern commanding officer in this poignant antiwar drama from director
Kimberly Peirce
.