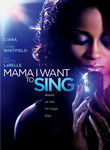 Mama, I Want to Sing!
Cast:

Ciara, Patti LaBelle, Ben Vereen, Billy Zane, Ne-Yo, Lynn Whitfield, Hill Harper, Ralph E. Tresvant, Shonda Farr, Juanita Bynum

Director:
Talented young singer Amara (portrayed by Grammy winner Ciara) is torn between her newfound desire to perform secular music and her love for her family and the religious music she grew up with. After her preacher father dies, Amara gives up singing -- and when she's finally able to overcome her grief and remember his advice to follow her dream, her mother (Lynn Whitfield) disapproves of her career choice. Patti LaBelle and Billy Zane co-star.