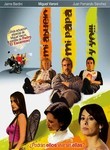 Mi Abuelo Mi Papa y Yo
Cast:

Director:
Oscar, Eduardo and Ruben are father, son and grandson, all learning about the amusing ups and downs of love in its many forms, from the first throes of infatuation to the bliss of fully realized mature love that looks beyond the self. Through new romances and failed relationships, each man discovers that love can make us do strange things indeed.
Jaime Barbini
,
Miguel Varoni
and
Juan Fernando Sánchez
star in this charming, insightful comedy.