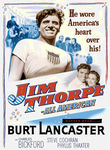 Jim Thorpe, All American
Cast:

Director:
In this moving biopic,
Burt Lancaster
portrays Native American athlete Jim Thorpe, one of the most versatile sportsmen in history. The story follows Thorpe through the highs of gold medal success at the 1912 Olympics to the crushing lows of personal tragedy. Thorpe's struggles on and off the field eventually led to the loss of his medals and a descent into alcoholism.
Charles Bickford
co-stars as Thorpe's mentor, football coach Pop Warner.