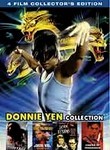 High Voltage / Cinema of Vengeance
Cast:

Toby Russell, Jackie Chan, Lance Henriksen, Sammo Hung Kam-Bo, John Woo, Donnie Yen, Edu Manzano, Roy Cheung, Subas Herrero, Bruce Lee, Yu Wang, Cynthia Rothrock

Director:
Hong Kong star Donnie Yen shows off his best moves in this action double feature. In High Voltage, Yen is a cop assigned to protect a witness whose life is in danger. Cinema of Vengeance traces the evolution of martial arts films. This comprehensive package includes segments on Yen and other talented luminaries from classic and contemporary film, including Yu Wang, Bruce Lee, John Woo, Cynthia Rothrock, Sammo Hung and others.