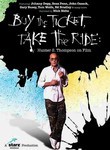 Buy the Ticket, Take the Ride
Cast:

Hunter S. Thompson, Bob Braudis, Ed Bradley, Douglas Brinkley, William F. Buckley Jr., Nick Nolte, Sean Penn, Johnny Depp, John Cusack, Gary Busey, Benicio Del Toro, Bill Murray, F.X. Feeney, Gary Hart, Art Linson, Leonard Maltin, George McGovern, Laila Nabulsi, Harry Dean Stanton, Ralph Steadman, Anita Thompson, Juan Thompson, Nick Tosches, Jann Wenner, Tom Wolfe

Director:
Director Tom Thurman's penetrating portrait of Hunter S. Thompson provides a glimpse into the life of the renowned "gonzo" journalist, a counterculture hero who rubbed elbows with some of Tinseltown's biggest stars. Thompson's family, along with acolytes such as author Tom Wolfe and a host of celebrities -- including Johnny Depp, Bill Murray, Benicio Del Toro and Sean Penn -- weigh in with their thoughts about the man and the myth.