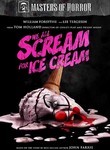 Masters of Horror: We All Scream for Ice Cream
When they were kids, they played a prank that resulted in the death of neighborhood ice cream man Buster the clown (
William Forsythe
). Now, they're all grown up with kids of their own, and Buster's restless ghost is coming back to dish up some revenge.
Lee Tergesen
,
Tim Henry
and
Brent Sheppard
co-star in this chilling episode of the hit Showtime series, directed by horror master
Tom Holland
from John Farris's short story.