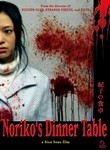 Noriko's Dinner Table
Cast:

Director:
Unhappy with suburban life, 17-year-old Noriko (
Kazue Fukiishi
) spends more and more time on a Web site where she meets and chats with other teenage girls across Japan. But when she runs away from home, her new friends in Tokyo lead her into a dark world. She joins a group that gives her a new personality and family, only to find her dream life turn into a nightmare when a mass suicide of high school girls occurs.