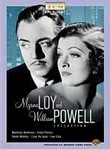 Just as his wife, Kay (
Myrna Loy
), is about to divorce him out of sheer boredom, Larry (
William Powell
) gets a knock on the head. Memories of his past as a con artist come flooding back, and suddenly, Kay's interest in Larry is renewed. Is it enough to keep her from divorce? And will her rekindled love survive if Larry returns to his usual dull self?
Frank McHugh
,
Edmund Lowe
and Our Gang's
Carl "Alfalfa" Switzer
co-star in this madcap comedy.