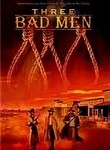 Three Bad Men
Cast:

George Kennedy, Mike Moroff, Chris Gann, Peter Brown, John Dixon, David Orton, Mack Don, June Wilkinson, Megan McNally, Tim Cable, Troy Hardin

Director:
As bank robbers Frame (
Chris Gann
), Luther (
John Dixon
) and Mat (
Tim Cable
) flee for the safety of the Colorado border, they encounter a dying man (
Peter Brown
) whose wife has been abducted, and he begs the trio to find her. With the law right behind them, the thieves must decide between saving the wife of a stranger or saving themselves.
Megan McNally
and
Troy Hardin
co-star in this high-octane Western.