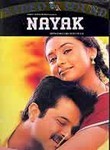 Anil Kapoor
portrays Shivaji Rao, a reporter who, after questioning the chief minister (
Amrish Puri
) during a live interview, accepts the CM's challenge to step into his position for a day. In his 24-hour reign, Shivaji Rao begins a cleanup, arresting corrupt politicians and ministers, including the CM. Stunned at the turn of events, the ousted leaders plot their revenge.
Rani Mukherjee
stars at the love interest in
S. Shankar
's political satire.