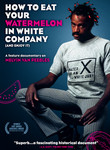 How to Eat Your Watermelon in White Company (And Enjoy It)
Cast:

Director:
Joe Angio
's award-winning documentary chronicles the remarkable career of influential African-American filmmaker
Melvin Van Peebles
. Through archival footage and interviews, the film traces Van Peebles's life as a director, Air Force pilot, actor, musician, novelist and stock trader.
Spike Lee
,
Gil Scott-Heron
,
Gordon Parks
and son
Mario Van Peebles
are among the admirers who discuss the artist's contributions to film and other areas.