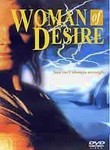 Woman of Desire
Cast:

Director:
Yacht captain Jack Lynch (
Jeff Fahey
) washes ashore after a fierce storm and is promptly arrested for killing his boss at sea and raping his boss's wife, Christina (
Bo Derek
). Lynch turns to veteran lawyer Walter Hill (
Robert Mitchum
) to prove his innocence. Soon, Hill suspects Christina may be at the center of a dangerous plan. The mystery becomes more twisted when Hill realizes that the dead man's brother will benefit from the killing.