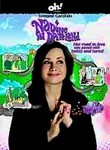 Nadine in Date Land
Cast:

Director:
Nadine, whose love life is nonexistent even though she runs a service offering dating advice, falls on hard times, so her meddlesome mother (
Swoosie Kurtz
) promises a cash infusion if Nadine can prove her strategies work. First, she has to rekindle her romance with former college beau Adam (
Brad Rowe
). Problem is, Nadine isn't the only woman trying to win his heart. This made-for-television romantic comedy stars
Janeane Garofalo
.